How Can I Cancel My Membership?
We utilize a variety of payment processors, but any membership can be cancelled by the following methods.
You can self cancel by viewing your Account Center. (Don't know where your Account Center is? Read this link) From within the member's area, look in the upper right hand corner. Move your mouse over the downward pointing arrow. The list will then expand. Click "Manage Account".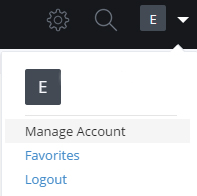 You will then be taken to a page that lists your memberships, gives information about each one, and includes the option to cancel in the "Action" column.



Clicking the word "Cancel" will bring up a box asking you to confirm the cancellation.

After cancellation, as you view information about your accounts, you'll see a message stating that you cancelled your subscription.

Memberships processed through CCBill can also self-cancel at at the CCBill Consumer Support Portal. Memberships processed through Epoch can can self-cancel on this page. Memberships processed through our merchant account (Rocket Gate) can be self-cancelled from within the members area, as outlined above.
If you have difficulty with any of the above methods, please contact our Customer Support team, and we'll be glad to assist. If your are requesting that our Support staff cancel the account for you, please allow us adequate time to process the request before scheduled rebilling.
---
Did we answer your question? If not, please visit the Customer Support portal to contact us.