What is My Account Status?
You can see your account status for all memberships under a single username. From within the member's area, look in the upper right hand corner. Move your mouse over the downward pointing arrow. The list will then expand. Click "Manage Account".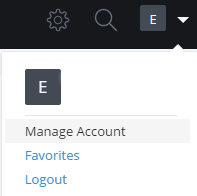 That will take you to your Account Center, where you can view subscriptions, cancel memberships, and Upgrade.


If something in your Account Center doesn't match your records, or you have any questions, let us know, and we'll be glad to help.
---
Did we answer your question? If not, please visit the Customer Support portal to contact us.